Bert Hancock is an Omaha native and the founder of Alchemy Development. Bert also serves as CEO of Robert Hancock & Co., a property management company in Omaha, where he's directed budgeting, financing and major capital improvement projects for their existing portfolio of assets and served as project manager for several new residential projects in the Omaha area. Following three years with a real estate investment firm in Boston, Bert earned his master's degree with distinction from The London School of Economics in urban and regional planning before returning to Omaha in 1997. He has a bachelor's degree from Brown University. In 2016, he completed the certificate program at the Ben Graham Centre for Value Investing at Ivey Business School (Western Ontario). Bert is a former member of the Board of Directors for the Child Saving Institute and formerly served as Chairman of the City of Omaha Zoning Board of Appeals.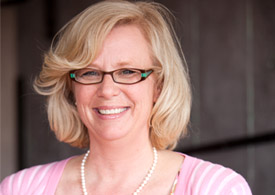 Vice President/Development Coordinator
Barb directs the construction and completion phases of the development process. She manages construction deadlines and contractor oversight, selects colors and finishes, and oversees quality control. Barb also directs remodeling and capital improvement projects for the portfolio of properties managed by Robert Hancock & Co. by scheduling and supervising a staff of carpenters and soliciting bids and work schedules from outside vendors.
She joined Robert Hancock & Co. in 2004, and served as an award-winning property manager at multiple locations after several years of sales and management experience in the medical, communications and financial industries. Barb is a graduate of the University of Nebraska at Omaha.